I love animals so much and I so painting them brings me so much joy.
Below is a list of sizes, prices and the most popular options.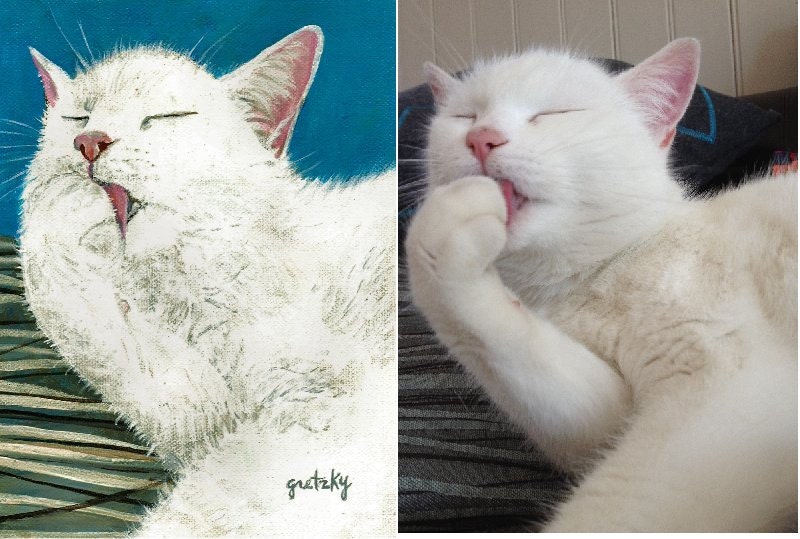 Single pet, stretched canvas unframed 
Painted with Acrylic paint
8" x 10" $ 75. shipping *$7.
11" x 14" $125. shipping *$11.
16" x 20" $175. shipping *$16.
18" x 24" $200. shipping *$20.
*Shipping in continental USA for other locations, please contact me for a quote.
Larger sizes are available
Additional pets $25. each
I can put pets together even if they are not in the same photo.
I can do framing on request, prices are usually about $30 -50 for frame.
I retain all copyright and reproduction rights to my artwork.
Portraits are usually completed in about three weeks, but I will give you a
time quote when you order based on my work load.
I will send you a photo for you approval once the portrait is ready to make sure I've captured the essence of your pet(s).
To Order: Send me an email with
 A good photo or of your pet. paintingsbygretzky@att.net  You can send as many pictures as you like. The best poses will be taken at the pets eye level and in natural lighting.
 Desired size and if you want it framed
 Let me know what background color you would like.
I will send you a link to make your payment with paypal or credit card.
Questions? Email me: Paintingsbygretzky@att.net